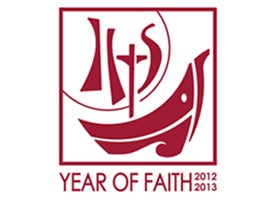 The Year of Faith logo has interesting symbolism.
The ship on the sea represents the Church, the Barque of Peter. Reminding us not only of Noah's ark, but especially of the boat in which the disciples were tossed on the Sea of Galilee until Jesus calmed the storm.
It is bounded by a square, its four sides symbolizing the four ends of the earth, the whole world.
The mast resembles a crucifix, and the billowing sails are the familiar IHS initials for Jesus Christ, Lord and Savior.
The sun behind the sails represents not only the Risen Christ, the Son of God, but is meant to remind us of the Eucharist.